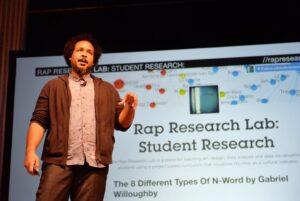 "Tahir Hemphill: Rap Research Lab" showcases an artist who proudly occupies a space that he describes as the "hybrid area between art, technology, social engagement, and interdisciplinary research." A technologist, researcher, facilitator, designer, and artist, Hemphill's 2021-2023 UMBC faculty fellowship in Visual Arts fosters experimentation and learning through visual and material explorations of geographies of Hiphop.
Between January 30 and March 18, 2023, the Center for Art, Design & Visual Culture (CADVC) at University of Maryland, Baltimore County (UMBC) will be occupied by Hemphill's active research  laboratory and studio focused on data visualizations of rap culture and history. CADVC will also operate as a forum for learning through "Mapper's Delight," a middle-school curriculum designed by Hemphill in collaboration with Verizon Innovative Learning. All of these activities will happen in the context of an exhibition of Hemphill's evolving body of multimedia artwork, including a presentation of his growing series titled "Maximum Distance, Minimum Displacement," and new interactive works and works-in-progress on view for the first time. Among the new works is "Visualisation of Authority," a kinetic sculpture illustrating the evolving data of library holdings that were the subject of Hemphill's 2018 research as the 2018 Harissios Papamarkou Chair in Education at the Library of Congress in Washington, DC.
"Rap Research Lab" at CADVC will also operate as the classroom for Hemphill's teaching. His Spring 2023 course, "IRC Fellows Topics in Art and Technology," invites an interdisciplinary group of students to work on translating ideas into new visual and material form through creative technologies. The course is offered in collaboration with
the UMBC Image Research Center. Hemphill and his collaborators will mine the Rap Almanac, a vast dataset of rap lyrics that Hemphill has assembled from various archives over the course of many years, to produce new artworks, experiments, and visualizations. The presentation at CADVC will grow and change as new work is produced.
The first meeting of Hemphill's class will occur on January 30, followed by a "soft" opening on January 31, when the CADVC Rap Research Lab space will open to the public. Through the course of the presentation, the Rap Research will invite audiences into the design and research process in a number of ways. In addition to sharing
interactive works and data processing activities within the CADVC gallery space, Hemphill will offer public viewings of a series of public choreographed activations of a programmable robot arm, produced as a prototype for a partnership project with Dr. Foad Hamidi (Department of Information Systems, UMBC). Details on how to sign up
and attend these performance-lecture events will be announced at cadvc.umbc.edu.
Tahir Hemphill is organizing a series of "pop up" events connected to the exhibition. All events will occur during normal gallery hours and be open to the public. See the artist's website for the most updated information; this page will also be updated with details.
Rap Research Lab runs from January 30-March 18, 2023. A closing event will occur on March 16 at 6pm, with details to be announced.
We thank PNC Bank, the Maryland State Arts Council, Baltimore County Commission on the Arts and Sciences, and the CAHSS Dean's Office for their support of Tahir Hemphill: Rap Research Lab.
A PDF of the publication accompanying the exhibition may be viewed or downloaded at this link: Tahir Hemphill: Rap Research Lab.