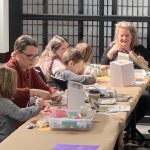 Through outreach programming, the Center for Art, Design and Visual Culture (CADVC) encourages public service in response to societal needs and issues in our surrounding community. We have collaborated with regional schools, museums, and non-profit organizations, through many initiatives, including:
Programs also include film series, lectures, seminars, symoposia, and artists' residencies, as well as Senior Adult Learner Outreach in Baltimore City and Baltimore County and K-12 Outreach Programs and Projects in Baltimore City and five neighboring counties.
The CADVC provides a wide range of opportunities for undergraduate and graduate students to become involved in K-12 education outreach programs.
Art 498 / CADVC Internship is available every semester for students to take for coursecredit. This upper level course provides students with the opportunity to assist CADVC staff with the research and presentation aspects of a particular CADVC educational outreach program. Interns assist with the presentation of K-12 curriculum and co-curate educational outreach exhibitions featuring artwork from participating schools.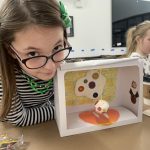 Visit us on Facebook or YouTube to see some of the photography, painting, collage and video projects by students from our K-12 program.
Program Goals
Collaborate and partner with schools, museums, and non-profit organizations to produce innovative and effective programs for children and adults in the city and suburbs of Baltimore.
Bring students and adults to UMBC exhibition tours at CADVC, and to tour the campus of UMBC.
Exhibit K-12 student artwork on the campus of UMBC and at partner institutions.
Involve parents in programming and invite them to see student artwork.
Show a wider audience creative ways to apply visual literacy.
Foster interdepartmental learning and a healthy community at UMBC and in Baltimore City, Baltimore County and throughout the state of Maryland.
Provide opportunities for collaboration and innovative research.