Joseph Beuys Sculpture Park was built at UMBC to strengthen our social bonds, foster human and natural wellness, and provide a safe and accessible green space for both the campus and the surrounding communities. Through UMBC's Wellness Initiatives, outreach throughout the metro area, and collaboration by diverse groups, we activate this space—which inspires creativity, collaboration, and healing—as a community.
You can be a part of accomplishing this mission. To learn more about how to get involved, visit https://cadvc.umbc.edu/?p=3056.
---
Joseph Beuys Tree Partnership
Joseph Beuys (1921-1986) was an influential German artist who came to prominence in the 1960s. He is known for his performances, sculptures, environments, vitrines, prints, posters, and thousands of drawings. He was a charismatic and controversial artist, a committed teacher, and a political activist.
Beuys highlighted the need for greater environmental awareness across the globe through his ongoing social sculpture project entitled, 7000 Oaks. With the help of NatureSacred.org and over 20 organizations in Baltimore, 7000 Oaks inspired the planting of hundreds of trees and several stones by over 500 people in Baltimore Parks and at the UMBC sculpture site in 2000-2001.
To learn more about the nascent Joseph Beuys Tree Partnership from those directly involved, visit our 20th Anniversary Oral History Collection at cadvc.umbc.edu/oral-history-collection.
---
Joseph Beuys Tree Partnership Journal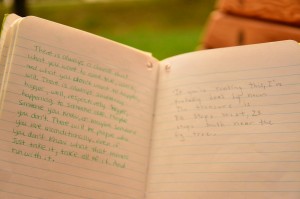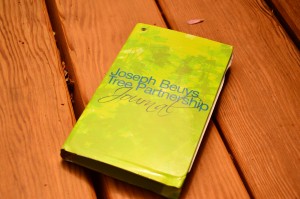 At the Joseph Beuys Sculpture Park at UMBC, there is a bench on which you can find a blank journal. This journal provides park visitors with a forum in which to write or to sketch. Over the years these public journals have been collected, scanned, and archived at CADVC. You can view some of the entries here. Please be advised the journal has not been edited in any way and may contain content of a serious or adult nature. Parental guidance is advised.
UMBC 2001-2010 Journal Entries in Downloadable Spreadsheet
---
Visit the park now on this virtual 360 degree interactive tour
---
Find the Park on Campus