Joseph Beuys Sculpture Park

Joseph Beuys Sculpture Park is on the south side of campus between the RAC and Hilltop Circle.
About the Park
The Center for Art, Design and Visual Culture produces diverse programming for the Joseph Beuys Sculpture Park. Programs offered in the park include an ongoing series of workshops for metro area K-12 students, UMBC student activities and classes, UMBC Wellness initiatives, community restorative yoga, and site-specific visual art installations and live music and dance performances.
Through the generous support of NatureSacred.org, the initial funder of the park, and UMBC, CADVC has been able to present these programs free and open to the public for the last 20 years!
Visit cadvc.umbc.edu/nature to learn about our latest programs.
"The true capital of the world is the human ability for creativity, freedom and self-determination in all their
working places."
 – Joseph Beuys
Mission
Joseph Beuys Sculpture Park was built with the intention of creating a meaningful forever green space at UMBC for both the campus and the surrounding communities to strengthen our social bonds, to foster human and natural wellness, and to provide a safe and accessible green space. Through UMBC's Wellness Initiatives, outreach throughout the metro area, and collaboration by diverse groups, as a community we activate this space, which inspires creativity, collaboration, and healing.
You can be a part of accomplishing this mission. There are a number of ways to help extend the reach to the surrounding community both within and beyond UMBC. Thank you for supporting us in our mission to reconnect our community with nature. To learn more about how to get involved, visit https://cadvc.umbc.edu/?p=3056
Joseph Beuys Tree Partnership Project
Joseph Beuys (1921-1986) was an influential German artist who came to prominence in the 1960s. He is known for his performances, sculptures, environments, vitrines, prints, posters, and thousands of drawings. He was a charismatic and controversial artist, a committed teacher, and a political activist.
Beuys highlighted the need for greater environmental awareness across the globe through his ongoing social sculpture project entitled, 7000 Oaks. With the help of NatureSacred.org and over 20 organizations in Baltimore, 7000 Oaks inspired the planting of hundreds of trees and several stones by over 500 people in Baltimore Parks and at the UMBC sculpture site in 2000-2001. More information and images are at this link.
Joseph Beuys Tree Partnership Journal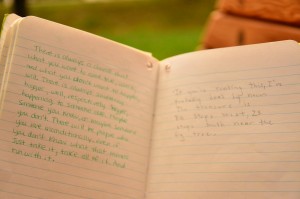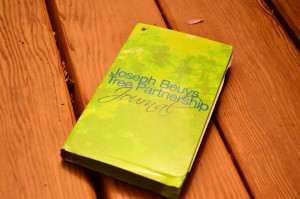 At the Joseph Beuys Sculpture Park at UMBC, there is a bench, which contains a blank journal. This journal provides visitors to the park with a forum in which to write or to sketch. Over the years these public journals were collected, scanned, and archived at CADVC. Some of those entries are here for viewing. Please be advised the journal has not been edited in any way and may contain content of a serious or adult nature. Parental guidance is advised.
UMBC 2001-2010 Journal Entries in Downloadable Spreadsheet
Land Acknowledgement
With social and environmental awareness at the core of our mission at the Joseph Beuys Sculpture Park, we find it critical to acknowledge the ancestral lands of the Piscataway Conoy and Susquehannock peoples that lived and continue to reside on the land that is now UMBC. Over the past 500 years, violence, displacement, and settlement have sought to erase and oppress Indigenous Peoples, their cultures, and their histories. We offer our respect to all past, present, and future Indigenous people connected to this land and we strive to cultivate a space at the Joseph Beuys Sculpture Park that prioritizes community, dignity, mindfulness, and personal wellness.   
UMBC Livewire Event- October 23, 2021

Beuys 20th Anniversary Celebration & Arboretum

September 28, 2021 4:21 PM

UMBC's Joseph Beuys Tree Partnership 20th Anniversary Celebration and
Arboretum, by Robert Morris, Performed by UMBC's RUCKUS & Music Department,

A UMBC Livewire Event

On Saturday, October 23rd the campus will host UMBC's annual new music festival, Livewire. At 3:30 pm, RUCKUS, the new music ensemble-in-residence, will be joined by additional faculty and student performers to present a special performance of Robert Morris's Arboretum. 

Arboretum is a concert-length work designed as an immersive experience. Performers move around the Sculpture Park as they play, and audience members are encouraged to move as well, changing their perspective on the work over its duration. The composer describes this work as "slowly unfolding... the experience of this music is like watching sunsets, clouds passing, or sea changes."

The event also marks the 20th Anniversary Celebration of the Joseph Beuys Tree Partnership and will include remarks on the Partnership's history and presence at UMBC and in Baltimore.

 Hot cider and a limited number of grass mats will be provided. Feel free to bring your own blanket, lawn chairs, and picnic to enjoy among the crunch of the fall leaves. This event is free and open to the public. 

Find maps, directions, and learn more at cadvc.umbc.edu/beuys.

This event is curated by Sandra Abbott and Daniel Pesca and presented through a partnership between UMBC's Music Department, Center for Art, Design and Visual Culture, and the Joseph Beuys Tree Partnership. The Joseph Beuys Sculpture Park is supported in part through the generosity of Nature Sacred (naturesacred.org). CADVC's programs are supported in part by the Maryland State Arts Council and Baltimore County Commission on Arts and Sciences.

__________________________________

UMBC is closely monitoring the COVID-19 situation and is dedicated to ensuring the health and safety of the university community. For complete information, please visit our COVID-19 website. Please note:

We encourage you and/or your social pod to maintain at least three feet distance from others. 

Help us all stay healthy and don't visit campus if you aren't feeling well.

Masks are not required

outdoors

unless you are participating in an event that requires them or you are part of a group with children under 12 who cannot physically distance or receive the vaccine.

Students, faculty, staff, and visitors to campus must wear a mask in indoor public spaces.  Masks must cover your nose and mouth.

For free parking during the event, park immediately adjacent to the Joseph Beuys Sculpture Park. Find  links to campus maps and directions to campus when you click on the link below.

Nature as Teacher Video Meditations released on our YouTube!

As we enter the last few weeks of summer break and excitement builds for the fall, we encourage you to take some time to recenter and recharge. 

That's why we're revisiting our Nature as Teacher meditation series— featuring the captivating nature footage of Research Associate Professor, Director of UMBC's Imaging Research Center and award-winning filmmaker, Lee Boot. 

All three Nature as Teacher video meditations have officially been released on our Youtube channel. Learn more about Lee Boot and watch the video meditations here!

Boot's video meditations were recently featured as "Curated Picks" in Nature Sacred's monthly newsletters! Previously released as audio meditations, this series is kindly narrated by UMBC's HR's Director of Workplace Learning, Organizational Development, and Wellness, Jill Wardell. 

Nature Sacred is featuring our video meditation!

Check it out in their June Care package