September 30 – December 11, 2021
View the Annet Couwenberg: Sewing Circles virtual tour below. An accessible text version of the virtual gallery is coming soon.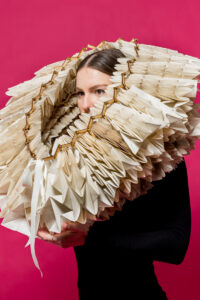 Annet Couwenberg: Sewing Circles features an overview of ten years of cultural research, digital experimentation, and finished artifacts by Couwenberg, who uses lace as a primary material. Through her creations, the artist asks how traditional textile construction can be modified or transformed by adapting it to digital fabrication processes.
Couwenberg's technical experiments include 3D printing of mulit-pronged connectors that are used to assemble life-size umbrella-like structures, laser-cut buckram (cloth stiffened with glue) that produces dramatic origami "infinity" collars, and Y-shaped CNC-cut polyethylene that produces infinitely scalable lace forms.
The exhibition also features a large interactive piece which will make its debut at the CADVC. Entitled Cleft, this work is based on a Dutch ruffled collar as an example of a piece of clothing acting as both a constraint and a beautiful enhancement. Cleft examines the precarious balance between the constraints of social norms and our private desires. Designed as an interactive work, Cleft allows audience members to serve as "digital puppeteers," navigating the boundaries of our social interactions through the use of computer software.
Cleft: An Art & Engineering Collaboration
Tuesday, October 5, 7 – 8 pm
Presented by UMBC's Center for Innovation, Research, and Creativity in the Arts (CIRCA) in partnership with the Center for Art, Design and Visual Culture
View the YouTube Live Stream here.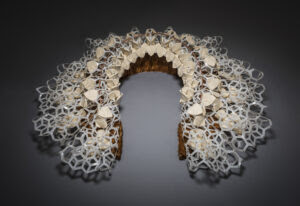 Are we becoming an extension of the machine or the other way around?
Artist Annet Couwenberg posed this question as she began a unique collaboration in Fall 2020 with UMBC engineering students led by Professor of Mechanical Engineering Tim Topoleski with the assistance of software developer and engineer Alan Grover to create her interactive sculpture Cleft. Join us for a lively conversation with Annet Couwenberg, Alan Grover, Dr. Topoleski, and participating students to learn more about the process behind Cleft's creation, which will be on view in her exhibition Annet Couwenberg: Sewing Circles at the Center for Art, Design, and Visual Culture at UMBC in Fall 2021. The conversation will be moderated by Lori Rubeling, curator of the exhibition and Professor of Art and Communication Design at Stevenson University.
Cleft (2016-21) is based on a Dutch ruffled collar as an example of a piece of clothing acting as both a constraint and a beautiful enhancement. Based on the concept of clothing as metaphor, the work examines the precarious balance between the constraints of social norms and our private desires. There is an intertwined yet conflictual relationship between immigration and citizenship, a state of anxiety that defines our contemporary condition. By putting the audience in charge as the "digital puppeteer," Cleft explores the untangling of this conflict between self-determination and dependency through the syntax of the body, and the boundaries of our social interactions through computer software, which translates our 'movements'.
Annet Couwenberg
Born in the Netherlands, Annet Couwenberg received MFA degrees from Cranbrook Academy of Art and Syracuse University. She received a Smithsonian Artist and Research Fellowship in 2014. Her work has been exhibited nationally and internationally, including at Gyeonggi MOMA (Ansan, Korea), HOMA Museum (Seoul, Korea), Museum of Arts and Design (NYC), Delaware Center for Contemporary Arts (Wilmington, DE), 28th Street Studio (NYC), Contemporary Museum (Baltimore, MD), City Gallery (Atlanta, GA), Decorative Arts Museum (Little Rock, AR), Textile Museum (Tilburg, NL). Her work has been reviewed widely, including in Le Monde, Los Angeles Times, The Washington Post, New York Times, Christian Science Monitor, Baltimore Sun, The Atlanta Constitution, Philadelphia Inquirer, Fiberarts, Surface Design, The Journal of Cloth and Culture and Sculpture Magazine. Telos Art Publishing published a monograph on her work in 2003.

Lori Rubeling
Lori Rubeling has been collaborating and teaching art and design curricula with communities and a variety of educational institutions for over 30 years. Her expertise in design education is entrepreneurial and interdisciplinary when collaborating with communities as they seek to research, prototype, test or implement communication programs or design projects. Community clients include Carroll Mansion, Case[werks] Gallery and Showroom, D Center Baltimore, Irvine Nature Center, the Northeast Regional Honors Council, North Charles Business Committee, SHAG: Society for History and Graphics, and Station North Arts and Entertainment District.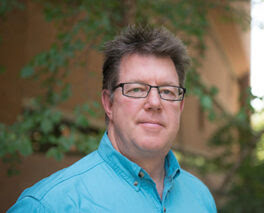 Tim Topoleski
Dr. L.D. Timmie Topoleski is a Professor in the Department of Mechanical Engineering at UMBC. His research interests are to understand fundamental mechanisms of material behavior, and use that understanding to create new materials to solve problems based on materials performance and longevity.  His work is focused on biomaterials: both materials that are manufactured to be implanted in the human body, and understanding human tissues as materials.
(CIRCA) The Center for Innovation, Research, and Creativity in the Arts is an interdisciplinary research center of the College of Arts, Humanities, and Social Sciences at UMBC dedicated to promoting inquiry and experimentation in and across the Arts disciplines. CIRCA supports innovative project-based research in the Arts, encompassing Dance, Music, Theatre, and the Visual Arts, by faculty, students, and visiting scholars, and promotes the development of interdisciplinary and collaborative projects that advance research in the Arts. CIRCA is committed to enhancing the local, national, and global reputation of the Arts at UMBC and to fostering innovative research and diverse viewpoints through hosting guest lectures, panel discussions, workshops, and performances.
__________________________________________________________________
UMBC is closely monitoring the COVID-19 situation and is dedicated to ensuring the health and safety of the university community. For complete information, please visit our COVID-19 website. Please note:
Students, faculty, staff, and visitors to campus must wear a mask in indoor public spaces.  Masks must cover your nose and mouth.

We encourage you and/or your social pod to maintain at least three feet distance from others.

Help us all stay healthy and don't visit campus if you aren't feeling well.

Masks are not required outdoors unless you are participating in an event that requires them or you are part of a group with children under 12 who cannot physically distance or receive the vaccine.