Jan 28 – Mar 13, 2021
CODEX features the artwork of Brandon Ables, Jason Charney, Mandy Morrison, and Adan Rodriguez.
Encompassing a wide range of technologies and materials, their works embody the elements of social practice and community involvement as well as critiques on contemporary culture. The artists are 2020 recipients of MFA degrees in Intermedia and Digital Arts and were to be featured in an in-person exhibition originally scheduled for spring 2020; their works are now presented in a virtual environment.
View the CODEX virtual tour below. For an accessible text version of the virtual gallery, please visit this page.
In One Man Trance, Brandon Ables recreates his studio apartment, demonstrating how he primes his subconscious by scoring everyday gestures with visual accompaniment. Different areas of the installation can be activated when viewers stand in front of the bathroom mirror, lie in bed watching TV, stare into the kitchen pantry, exercise, and practice one-man band coordination.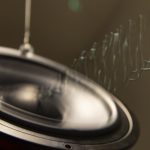 Jason Charney 
The four works in Jason Charney's reciprocation reimagine loudspeakers – transforming them from "invisible" aural channels into sculptural objects to interrogate interpersonal relationships, (mis)communications, and the kinetic phenomenon of sound. While recorded audio is used to drive the loudspeakers and implicate the viewer-listener's body, the heard sound is an artifact of the materials activated by the speakers' movement.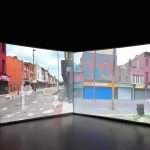 Mandy Morrison
Spirits of Promise and Loss, is a large multi-channel video installation, populated with animated ghost-like characters against photo images of Baltimore's Old Town shopping mall.   
The video illuminates the utopian mall's decline due to shifting demographics, bureaucratic indifference, and the rise of big-box chain stores.  In this way, Spirits provides an aesthetic platform that plays on the historic decorative aspects of the Asian screen, and is also a choreographed media work, mining the residual manifestations of human extremes, while speaking to that which exists in a post-capitalist urban entropy, underscoring current class and cultural partitions.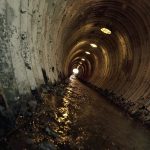 Adan Rodriguez 
Adan Rodriguez's A Necessary Haunting blurs the line between reality and fiction, highlighting film's effect on community tourism and the perpetuation of legend. Presented through a narrative short film, documentary, and accompanying physical media, the artist encourages travel to locations where alleged supernatural events took place.