All events at CADVC are free and open to the public.
UMBC is committed to creating an accessible and inclusive environment for all students, staff, and visitors.
---
Selected Recent Events
Events connected with "Tahir Hemphill: Rap Research Lab"
"Tahir Hemphill: Rap Research Lab" showcased an artist who proudly occupied a space that he described as the "hybrid area between art, technology, social engagement, and interdisciplinary research." A technologist, researcher, facilitator, designer, and artist, Hemphill's UMBC faculty fellowship in Visual Arts from 2021-2023 fostered experimentation and learning through visual and material explorations of geographies of Hiphop.
February 23, 2pm: Robot Arm Demonstration
Dr. Foad Hamidi, UMBC Human-Centered Computing, and Tahir Hemphill, UMBC Visual Arts, discussed their shared interests in participatory digital research of media and cultural systems. The session included a demo of choreography for a mechanized robotic arm based on Hiphop data analysis by Hemphill as part of his series "Maximum Distance, Minimum Displacement."
March 16, 6pm: On Institutions (Dub Remix)
Artist Tahir Hemphill and CADVC Director and exhibition curator Dr. Rebecca Uchill discussed the exhibition "Rap Research Lab." The discussion was followed by an open gallery visit accompanied by a DJ mix.
Ongoing pop up events
Several "pop-up" events were planned in connection with "Tahir Hemphill: Rap Research Lab" and were listed as they were planned. For instance, the artist offered weekly 3 pm Saturday tours on a sign-up only basis on March 4, 11, and 18.
---
Exploration into public art projection
During the spring semester of 2023, CADVC explored a possible public art event or video projection series in the amphitheater connected to the Center. With the support of the Maryland State Arts Council's public art planning grant, CADVC organized public events related to this inquiry.
Saturday, February 25, 1pm: When Public Art is More than Sculpture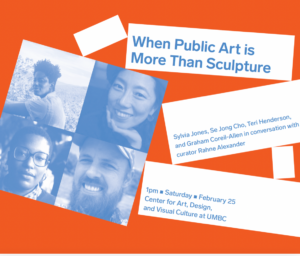 While artists across all mediums engage in making public art, the ways of engaging publics often differ. Audiences, strategies, methods can vary wildly. For artists developing works, the questions can compound: Are communities fully engaged? Is nature truly preserved? Is this work achieving its intended goal?
When Public Art is More than Sculpture convenes a vibrant discussion on these questions and more featuring four pillars of Baltimore's cultural landscape — painter and environmental engineer Se Jong Cho; poet and educator Sylvia Jones; public artist Graham Coreil-Allen; and Teri Henderson, Arts and Culture Editor of Baltimore Beat — facilitated by Rahne Alexander (UMBC IMDA MFA '21).
March 30, 6-7pm
Continuing that dialogue, Teri Henderson, the Arts and Culture Editor at Baltimore Beat, presented a discussion about the interrelations between public art, curation, and collaboration. She discussed her work with the Beat, Current Gallery, WDLY, and the projects connected to her groundbreaking 2021 book Black Collagists in conversation with event facilitator Rahne Alexander (IMDA MFA '21).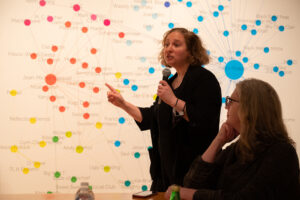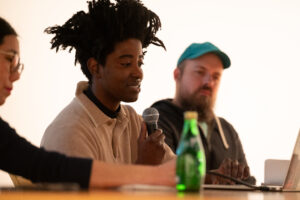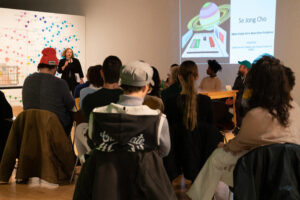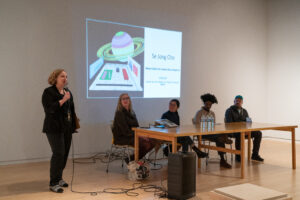 ---
Special spotlight on CADVC Community Outreach: Saturday, May 28th, 2022
On Saturday, May 28th, 2022, CADVC participated in a Community Outreach event that celebrated the beauty of Baltimore City's Latino Community through the art of storytelling. The event provided an opportunity for attendees to remember their roots and history while engaging with the rich cultural traditions of the community.
To learn more about this past event, click here.