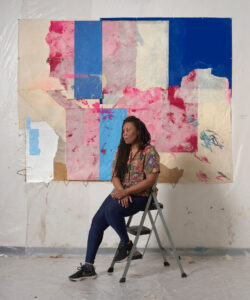 2022-2023 (ongoing): Tomashi Jackson Art Research Residency
In the 2022-2023 academic year multimedia artist Tomashi Jackson is undertaking a research-based artist residency with CADVC. This body of research focuses on the history of and advocacy for alternative art spaces, building on Jackson's existing research that she calls the "Pedagogy Study Hall" project.
The purpose of the exploratory research residency at CADVC is to allow artists and their interdisciplinary collaborators to take advantage of scholarly resources and to build partnerships at UMBC and in the Baltimore region. These exploratory residencies maintain open-ended outcomes, but may develop into workshops, artworks, or other future projects.
February 9, 2023, 6pm
Tomashi Jackson, CADVC exploratory artist in residence, will discuss her research activities on the topic of arts pedagogy, and reflect on her recent Neuberger Prize exhibition SLOW JAMZ in conversation with CADVC Director Rebecca Uchill, who interviewed Jackson for the Neuberger Museum catalogue. This conversation about public presentation of research and video artwork coincides with CADVC's own exploratory research into presenting public art, including video, in the UMBC Fine Arts building amphitheater.