September 22 – December 17, 2022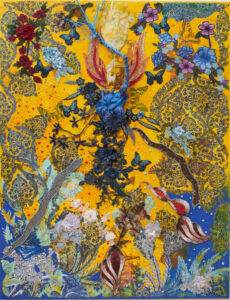 "Oletha DeVane: Spectrum of Light and Spirit" is the first full retrospective honoring Maryland-based artist Oletha DeVane. A prominent presence in the Baltimore area arts scene for many decades, DeVane is an artist who works in all media, including public sculpture, as well as an active educator, arts administrator, and curator. Organized by curator Lowery Stokes Sims, "Spectrum of Light and Spirit" will trace DeVane's extensive career—from her early paintings and works on paper to video artworks and interactive sculpture on view for the first time at the Center for Art, Design, and Visual Culture (CADVC) at the University of Maryland, Baltimore County. Read more…
---
Visitor Information
Admission is free. The CADVC is open Tuesday through Saturday, 10 a.m. – 5 p.m.
Please visit here for directions and parking information.
COVID-19 Guidelines
UMBC is closely monitoring the COVID-19 situation and is dedicated to ensuring the health and safety of the university community. For complete information, please visit our COVID-19 website. Please note: Beginning October 3, visitors are recommended to wear a KN-95 mask or equivalent. Visitors may pick up free KN-95 masks at the CADVC desk when entering the gallery.