January 31 – March 18, 2023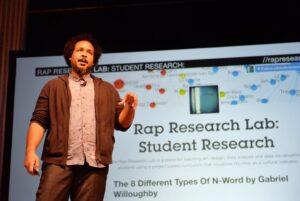 "Tahir Hemphill: Rap Research Lab" is a showcase of an artist who proudly occupies a space that he describes as the "hybrid area between art, technology, social engagement, and interdisciplinary research." A technologist, researcher, facilitator, and artist, Hemphill's experimentation, learning design, and 2021-2023 UMBC faculty fellowship research explore geographies of Hip-hop through a range of visual and material forms.
Between January 31 and March 18, 2023, the Center for Art, Design & Visual Culture (CADVC) will be taken over by an active classroom of UMBC students working with Hemphill to create data visualizations of rap culture and history. CADVC will also be a forum for learning through "Mapper's Delight," a middle-school curriculum designed by Hemphill in collaboration with Verizon Innovative Learning. All of these activities will happen in the context of an exhibition of Hemphill's evolving body of multimedia artwork titled "Maximum Distance. Minimum Displacement," alongside new works created for this presentation.
"Rap Research Lab" will begin with a "soft" opening on January 31, and run through March 18, 2023. A closing reception will occur on March 16, with details to be announced.
---
Visitor Information
Admission is free. The CADVC is open Tuesday through Saturday, 10 a.m. – 5 p.m.
Please visit here for directions and parking information.
COVID-19 Guidelines
UMBC is closely monitoring the COVID-19 situation and is dedicated to ensuring the health and safety of the university community. For complete information, please visit our COVID-19 website. Please note: Beginning October 3, visitors are recommended to wear a KN-95 mask or equivalent. Visitors may pick up free KN-95 masks at the CADVC desk when entering the gallery.