The Joseph Beuys Tree Partnership
20th Anniversary Oral History Collection
This collection of oral histories was created to preserve the experience and expertise of those involved in the creation and maintenance of the four parks that make up the Joseph Beuys Tree Partnership. In the 20+ years since its inception, the Joseph Beuys Tree Partnership (JBTP) has planted 350 trees and placed several stones, thanks to the work of over 500 people in Baltimore Parks and on the University of Maryland, Baltimore County campus. The parks that make up the Tree Partnership also serve as the background and muse for countless public programs for school children and adults, and as a place of reflection and rest in the middle of bustling Baltimore City. The Joseph Beuys Tree Partnership was created in the year 2000, inspired by the 7,000 Oaks that artist Joseph Beuys started in Kassel, Germany in 1982. Renee Van der Stelt, then registrar at the Center for Art, Design, and Visual Culture, approached the organization then known as TKF (now Nature Sacred) for a grant to aid in this project which reflected Beuys' ideas of urban environmentalism and art in public spaces. The city parks: Carroll Park, Patterson Park, and Wyman Dell, were picked specifically for their individual strong community organizations, and for their position as a green oasis in busy parts of the city.
The Joseph Beuys Tree Partnership was inspired by the German artist, Joseph Beuys' (1921-1986) project, 7,000 Oaks: City Forestation Instead of City Administration, in which he planted 7,000 Oak trees in Kassel, Germany. Beuys was a prolific performance artist and very influential artist in the mid-twentieth century. He was born into a Germany falling into fascism, and thus, like many other German children of his generation, took part in the Hitler Youth and eventually served in the German Air Force during World War II. He was a sculpture professor at a college of art in Dusseldorf and had his art in galleries around the world. However, his most influential contribution might be his concept for social sculpture, which presents the idea that art and society are intrinsically linked. He believed that every human was an artist, and that with intention, every action can be art. These artists and their art combined make society. To Beuys, art had the power to change society, and this is exemplified in his work 7,000 Oaks. In 1982, Beuys was asked to create a piece for Documenta, a contemporary art exhibition in Kassel, Germany. Beuys presented a large pile of basalt stones and declared that not one stone would be moved until a tree was planted in its new location. It took years and lots of volunteers, but all the trees were planted by 1987. The idea is that the rock slowly deteriorates, allowing its minerals to be absorbed by the tree next to it. The trees were planted by local volunteers, exhibiting the participatory nature of social sculpture that Beuys thought was imperative to positively shaping society.
The Joseph Beuys Tree Partnership has created a life of its own in the Baltimore metropolitan area over the past 20 years. The parks, and the trees within them, give visitors a much-needed reprieve from city life and a space of reflection. This collection of oral histories serves as a reminder of the hard work, passion, and care that went into the planning, creation, and maintenance of all the moving parts that is the Joseph Beuys Tree Partnership.
Renee van der Stelt [she/her] recorded on 6/17/2021
Renee van der Stelt was the spark that ignited the Joseph Beuys Sculpture Park. Her previous knowledge and appreciation of Joseph Beuys began when working previously at the Walker Art Center in Minneapolis with its large collection of Beuys multiples. Van der Stelt discussed Beuys as an artist, what attracted her to his work and philosophies about art, while also knowing others have been critical of as a person. Together, we discussed her time at UMBC and how this project went from an idea about how art often emerges from people's creative actions in their lives to four parks across the Baltimore area that have thrived for the past twenty years. She shared the different steps, challenges, and triumphs that came with completing this project as well as some behind-the-scenes insights into how it felt to be part of a small team doing big work. Van der Stelt departed from her position at UMBC in 2008, but for over seven years served as Registrar while also curating an exhibition and running varied education and public programs, tree plantings, and more.
Listen to Renee van der Stelt's oral history here. 
View the transcript of Renee van der Stelt's oral history here.
More oral histories about the Joseph Beuys Tree Partnership are coming soon!
About the Park
The Center for Art, Design and Visual Culture produces diverse programming for the Joseph Beuys Sculpture Park. Programs offered in the park include an ongoing series of workshops for metro area K-12 students, UMBC student activities and classes, UMBC Wellness initiatives, community restorative yoga, and site-specific visual art installations and live music and dance performances.
Through the generous support of NatureSacred.org, the initial funder of the park, and UMBC, CADVC has been able to present these programs free and open to the public for the last 20 years!
Visit cadvc.umbc.edu/nature to learn about our latest programs.
"The true capital of the world is the human ability for creativity, freedom and self-determination in all their
working places."
 – Joseph Beuys
Mission
Joseph Beuys Sculpture Park was built with the intention of creating a meaningful forever green space at UMBC for both the campus and the surrounding communities to strengthen our social bonds, to foster human and natural wellness, and to provide a safe and accessible green space. Through UMBC's Wellness Initiatives, outreach throughout the metro area, and collaboration by diverse groups, as a community we activate this space, which inspires creativity, collaboration, and healing.
You can be a part of accomplishing this mission. There are a number of ways to help extend the reach to the surrounding community both within and beyond UMBC. Thank you for supporting us in our mission to reconnect our community with nature. To learn more about how to get involved, visit https://cadvc.umbc.edu/?p=3056
Joseph Beuys Tree Partnership Project
Joseph Beuys (1921-1986) was an influential German artist who came to prominence in the 1960s. He is known for his performances, sculptures, environments, vitrines, prints, posters, and thousands of drawings. He was a charismatic and controversial artist, a committed teacher, and a political activist.
Beuys highlighted the need for greater environmental awareness across the globe through his ongoing social sculpture project entitled, 7000 Oaks. With the help of NatureSacred.org and over 20 organizations in Baltimore, 7000 Oaks inspired the planting of hundreds of trees and several stones by over 500 people in Baltimore Parks and at the UMBC sculpture site in 2000-2001. More information and images are at this link.
Joseph Beuys Tree Partnership Journal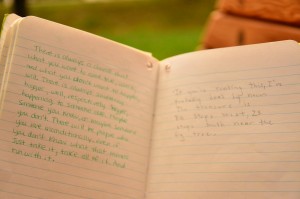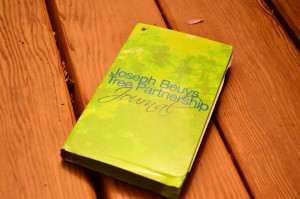 At the Joseph Beuys Sculpture Park at UMBC, there is a bench, which contains a blank journal. This journal provides visitors to the park with a forum in which to write or to sketch. Over the years these public journals were collected, scanned, and archived at CADVC. Some of those entries are here for viewing. Please be advised the journal has not been edited in any way and may contain content of a serious or adult nature. Parental guidance is advised.
UMBC 2001-2010 Journal Entries in Downloadable Spreadsheet
Land Acknowledgement
With social and environmental awareness at the core of our mission at the Joseph Beuys Sculpture Park, we find it critical to acknowledge the ancestral lands of the Piscataway Conoy and Susquehannock peoples that lived and continue to reside on the land that is now UMBC. Over the past 500 years, violence, displacement, and settlement have sought to erase and oppress Indigenous Peoples, their cultures, and their histories. We offer our respect to all past, present, and future Indigenous people connected to this land and we strive to cultivate a space at the Joseph Beuys Sculpture Park that prioritizes community, dignity, mindfulness, and personal wellness.   
Off-site Intern Opportunity Promoting the Park w/CADVC Staff
The Center for Art, Design and Visual Culture, UMBC is offering an off-site internship opportunity this summer 2020. An internship at CADVC is taken for a letter grade and can be taken for one credit or up to six credits a semester, repeatable up to 12 credits. Each credit is worth 40 hours.
Summer interns will be fully integrated into the off-site work that CADVC staff have been involved in since the campus went online in mid-March. As such it is important that interns have reliable online access and know how to use collaborative files on Google Drive and BOX.
Interns will be expected to attend weekly online meetings via WebEx and to be available for occasional unscheduled phone calls or virtual meetings during the business day. Hours and dates of the internship are flexible. Accommodations can be made for time off for travel or to extend internship summer hours into the fall semester, etc. as needed.
As with all CADVC internships the student must register for PRAC with the UMBC Career Office and for ART 498 CADVC Internship after receiving permission to register by the CADVC supervisor. CADVC Internships are awarded on a competitive basis, so you must attend a virtual interview and be accepted in order to register for the internship.
To apply, please send your resume, the completed (first page only) of the attached form, and a cover email letter to abbotts@umbc.edu. In the email state what you want to accomplish with a virtual CADVC internship this summer and write "INTERNSHIP - (your name)" as part of your email subject line. Also attached here are some documents listing various project ideas. Please comment on any that may be of interest to you in your email as well.
Posted: May 20, 2020, 6:15 AM