About the Park
The Center for Art, Design and Visual Culture produces diverse programming for the Joseph Beuys Sculpture Park. Programs offered in the park include an ongoing series of workshops for metro area K-12 students, UMBC student activities and classes, UMBC Wellness initiatives, community restorative yoga, and site-specific visual art installations and live music and dance performances.
Through the generous support of NatureSacred.org, the initial funder of the park, and UMBC, CADVC has been able to present these programs free and open to the public for the last 20 years!
Visit cadvc.umbc.edu/nature to learn about our latest programs.
---
Visit the park now on this virtual 360 degree interactive tour!
"The true capital of the world is the human ability for creativity, freedom and self-determination in all their working places."
 – Joseph Beuys
Mission
Joseph Beuys Sculpture Park was built with the intention of creating a meaningful forever green space at UMBC for both the campus and the surrounding communities to strengthen our social bonds, to foster human and natural wellness, and to provide a safe and accessible green space. Through UMBC's Wellness Initiatives, outreach throughout the metro area, and collaboration by diverse groups, we activate this space— which inspires creativity, collaboration, and healing— as a community.
You can be a part of accomplishing this mission. There are a number of ways to help extend the reach to the surrounding community both within and beyond UMBC. Thank you for supporting us in our mission to reconnect our community with nature. To learn more about how to get involved, visit https://cadvc.umbc.edu/?p=3056
Joseph Beuys Tree Partnership Project
Joseph Beuys (1921-1986) was an influential German artist who came to prominence in the 1960s. He is known for his performances, sculptures, environments, vitrines, prints, posters, and thousands of drawings. He was a charismatic and controversial artist, a committed teacher, and a political activist.
Beuys highlighted the need for greater environmental awareness across the globe through his ongoing social sculpture project entitled, 7000 Oaks. With the help of NatureSacred.org and over 20 organizations in Baltimore, 7000 Oaks inspired the planting of hundreds of trees and several stones by over 500 people in Baltimore Parks and at the UMBC sculpture site in 2000-2001.
Joseph Beuys Tree Partnership Journal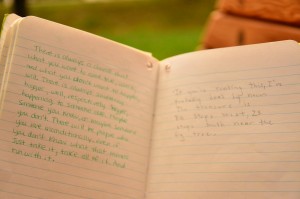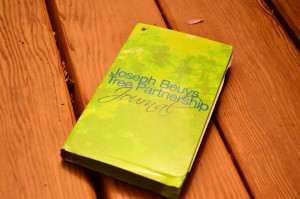 At the Joseph Beuys Sculpture Park at UMBC, there is a bench, which contains a blank journal. This journal provides visitors to the park with a forum in which to write or to sketch. Over the years these public journals were collected, scanned, and archived at CADVC. Some of those entries are here for viewing. Please be advised the journal has not been edited in any way and may contain content of a serious or adult nature. Parental guidance is advised.
UMBC 2001-2010 Journal Entries in Downloadable Spreadsheet
Land Acknowledgement
With social and environmental awareness at the core of our mission at the Joseph Beuys Sculpture Park, we find it critical to acknowledge the ancestral lands of the Piscataway Conoy and Susquehannock peoples that lived and continue to reside on the land that is now UMBC. Over the past 500 years, violence, displacement, and settlement have sought to erase and oppress Indigenous Peoples, their cultures, and their histories. We offer our respect to all past, present, and future Indigenous people connected to this land and we strive to cultivate a space at the Joseph Beuys Sculpture Park that prioritizes community, dignity, mindfulness, and personal wellness.  
---
Check it out in their June Care package
Posted: June 23, 2021, 1:32 PM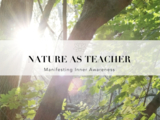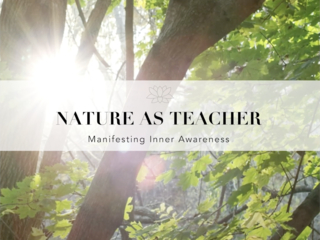 Check it out in their May care package!
BATHE IN THIS.
Set aside deadlines and expectations for 12 minutes. Instead, place yourself in nature's hands to find stability and peace. Our partners at the Center of Arts, Design and Visual Culture at UMBC, home to this Sacred Place, can show you how. This is the second of three "Nature as Teacher" meditations, set in a serene nature backdrop near their Sacred Place.
Listen and watch the program here: https://naturesacred.org/programming_kit/nature-as-teacher-cultivating-peace-in-uncertain-times/ 
Each video meditation is kindly filmed by Research Associate Professor, Director of UMBC'sImaging Research Center and award-winning filmmaker Lee Boot and narrated by UMBC's Director of Workplace Learning, OD & Wellness and Founder & CEO of Wardell Development Group LLC.,Jill Wardell. The project is supported by the Center for Art, Design and Visual Culture and the Joseph Beuys Tree Partnership with a generous gift from Nature Sacred (naturesacred.org).
Posted: May 24, 2021, 2:16 PM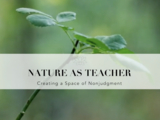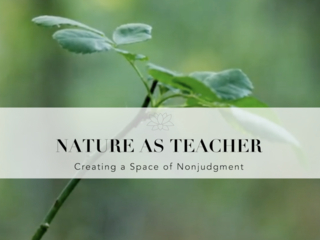 Our Joseph Beuys Sculpture Park Firesoul, Sandra Abbott, would like to share one of her favorite stories of the Beuys Park in celebration of summer. She encourages you to look for the little instances of peace and serenity in nature as it is blooming. 
" One evening, I stopped by the park at dusk to check in on a dance rehearsal for a performance that the Beuys park was hosting.
As the sun dimmed, I realized I wasn't the only one watching. 
A beautiful red fox had trotted into the park and positioned herself up against one of the smaller stones. Curiously, she leaned back on one elbow in the laziest repose. I was stunned by her human-like attitude and what seemed like genuine interest in the dancers' performance! It was a remarkable and funny thing to see — this gorgeous animal interacting with us at a distance, yet thoroughly engaged. 
Asking the dancers if they'd noticed her, they nonchalantly replied, "Oh, yeah. She's been one of regulars at rehearsals this week."
One never knows what kinds of human and nature connections one will make in a Sacred Place!"
In nature, we find connection in the little moments. We encourage you to reconnect with nature, with yourself, and with the things that make you happy this summer!
Posted: May 20, 2021, 1:46 PM