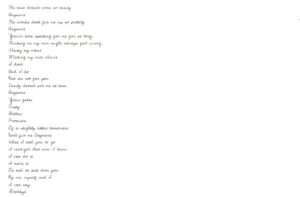 My poem is about breaking away from someone controlling you by saying "Goodbye", and learning to use your own voice instead of someone else talking for you.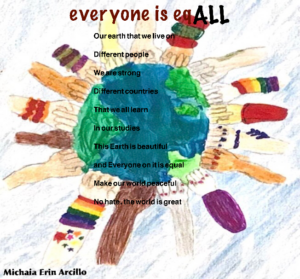 My work shows that everyone in our world is not only just beautiful and unique, but we are all equal. There should be no hate against people or any discrimination towards where we are from because the world is beautiful.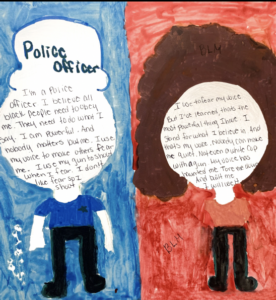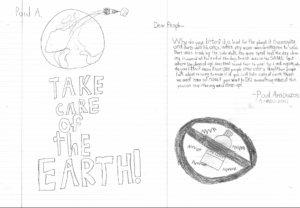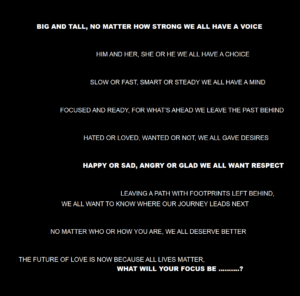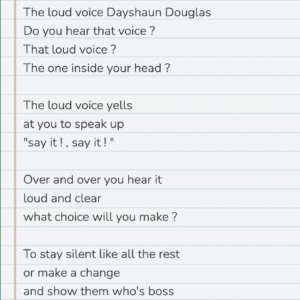 Like in 2019, I saw this artist called ted Davis making UI and this other person called Ed making 3d models and I said to myself I want to do that. I want this 3d to know that I can shine bright Like a diamond in anything I do if I involve myself in it.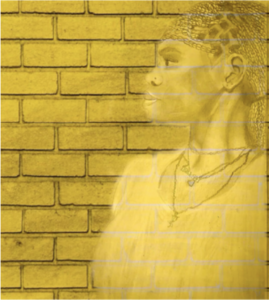 Read Cashay Harris's writing here.
Hello My Name is Cashay Harris i decided to draw this picture because as you can see i look like a brave and strong individual young woman.This picture gives me life because if this wasn't me and i was just seeing it hang up somewhere i would think she's a soldier someone who fought for her rights and was brave doing it even if she had any fears.The reason for the picture is to show that a queen come in any type of form. My reason for the poem is to show how intelligent and brilliant black females or males are and that just because we are black we are back that dont mean we have no career or something on for us in the future or presents.I want my poem to basically help other show off their skin without thinking its a bad thing and to stop letting others body shame them.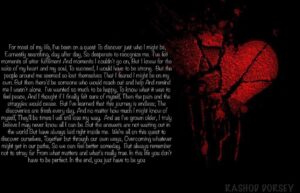 My Name Is Rashod Dorsey I Live In baltimore,maryland my first goal is to finish high school my second goal is to have a long successful career but last but not least my last goal is to just travel the world and see different things and other cultures. what inspired me to write this poem was a workshop with a visiting artist Ms.Gayle Danley. what i want the viewers to know is that i wrote this poem in order to express the difficult emotions i go threw. in this poem i simply phrase and work off different artists.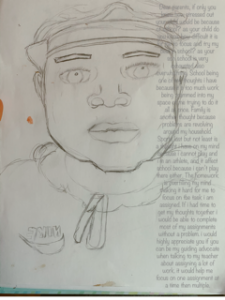 My name is Maurice Payne i live in Baltimore with my family of 6. Three things that are important to me are my family, basketball, god. My goal in life is to become a professional basketball player, this poem is about the frustration that i have with school and the circumstances of my life and i have overladed self portrait i used on photoshop mix. i put the poem on top of my portrait. Thank you for this opportunity.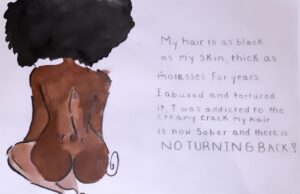 My hair is my power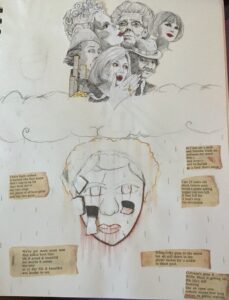 It Has Really Been a Honor doing This Project That I Did This Already But Wanted To Make It Better By Showing My Work of a Poem And My Image As Also So Enjoy.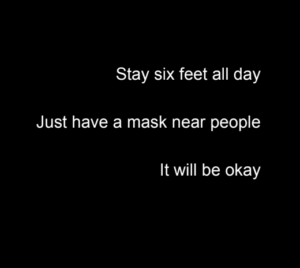 My name is Anaiyah Epps,I'm 19 and I'm from Baltimore. My intention with this poem is to emphasize self love. It was inspired by Ms.Gale Danley and Ms.Sia Kyriakakos. I want viewers to know that they are beautiful no matter what flaw they think they may have.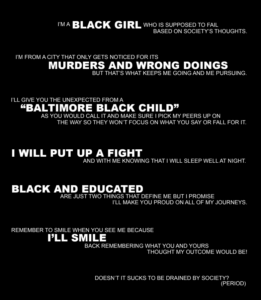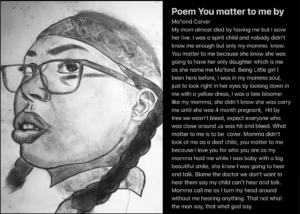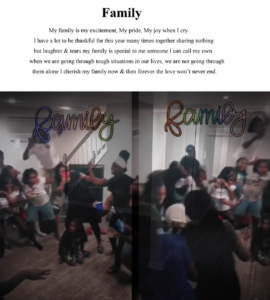 Read Nate Baillet's (Creative City Middle School) haiku here.
Read Ciboney Stephen's (Roland Park Middle School) poem, "Un poème aléatoire, here."
I made this poem to inspire people to push through the hard times and to give them a little laugh.
Read Joseph Tyler's (Mergenthaler High School) piece, "Harbringer," here.
Read Melek Mitchell's (Mervo High School) piece, "And Still I Rise," here.
Read Malea Nivens Gibbs's (Mergenthaler High School) piece "And Still I Rise," here.
I chose to write this piece based upon a open writing assignment we did in Art one day and the opportunity came for me to express how I feel, and this is what came out of it. Malea Nivens-Gibbs, Mergenthaler Vocational Technical High School, Mrs.Kyriakakos, 3rd period ArtClass
Read Malik Simpkins's (Mergenthaler High School) piece, "We just want justice," here.
Police brutality been happening a lot and we don't want to cause problems and have riots we just want the those bad cops to held accountable for there action
Read Orla Starger-Shiller's (Baltimore City) piece, "I have a voice," here.