Annet Couwenberg: Sewing Circles
September 30 – December 11, 2021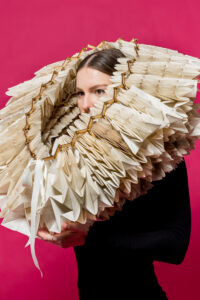 Annet Couwenberg: Sewing Circles features an overview of ten years of cultural research, digital experimentation, and finished artifacts by Couwenberg, who uses lace as a primary material. Through her creations, the artist asks how traditional textile construction can be modified or transformed by adapting it to digital fabrication processes.
Couwenberg's technical experiments include 3D printing of mulit-pronged connectors that are used to assemble life-size umbrella-like structures, laser-cut buckram (cloth stiffened with glue) that produces dramatic origami "infinity" collars, and Y-shaped CNC-cut polyethylene that produces infinitely scalable lace forms.
The exhibition also features a large interactive piece which will make its debut at the CADVC. Entitled Cleft, this work is based on a Dutch ruffled collar as an example of a piece of clothing acting as both a constraint and a beautiful enhancement. Cleft examines the precarious balance between the constraints of social norms and our private desires. Designed as an interactive work, Cleft allows audience members to serve as "digital puppeteers," navigating the boundaries of our social interactions through the use of computer software.
To learn more about the exhibition, artist and events, click here.
View the Annet Couwenberg: Sewing Circles virtual tour below. An accessible text version of the virtual gallery is coming soon.
____________________________________________________
UMBC is closely monitoring the COVID-19 situation and is dedicated to ensuring the health and safety of the university community. For complete information, please visit our COVID-19 website. Please note:
Students, faculty, staff, and visitors to campus must wear a mask in indoor public spaces.  Masks must cover your nose and mouth.

We encourage you and/or your social pod to maintain at least three feet distance from others.

Help us all stay healthy and don't visit campus if you aren't feeling well.

Masks are not required outdoors unless you are participating in an event that requires them or you are part of a group with children under 12 who cannot physically distance or receive the vaccine.
Beuys 20th Anniversary Celebration & Arboretum
UMBC's Joseph Beuys Tree Partnership 20th Anniversary Celebration and Arboretum, by Robert Morris, Performed by UMBC's RUCKUS & Music Department, A UMBC Livewire Event On Saturday, October...
Posted: October 12, 2021, 10:59 AM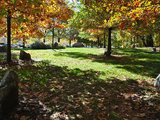 Join us in-person or through live streaming!
Join us tomorrow at 7pm for "Cleft: An Art & Engineering Collaboration" (in-person & live streaming)!  Reserve your tickets here: https://bit.ly/3l8zXr6 Artist Annet Couwenberg posed the...
Posted: October 4, 2021, 6:16 PM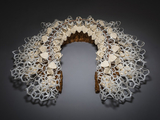 We hope to see you at the gallery soon!
Annet Couwenberg: Sewing Circles is opening tomorrow, September 30! The exhibition will be on display at the CADVC until December 11.  Stay tuned to learn more about our Oct 5 Sewing Circles...
Posted: September 29, 2021, 12:32 PM