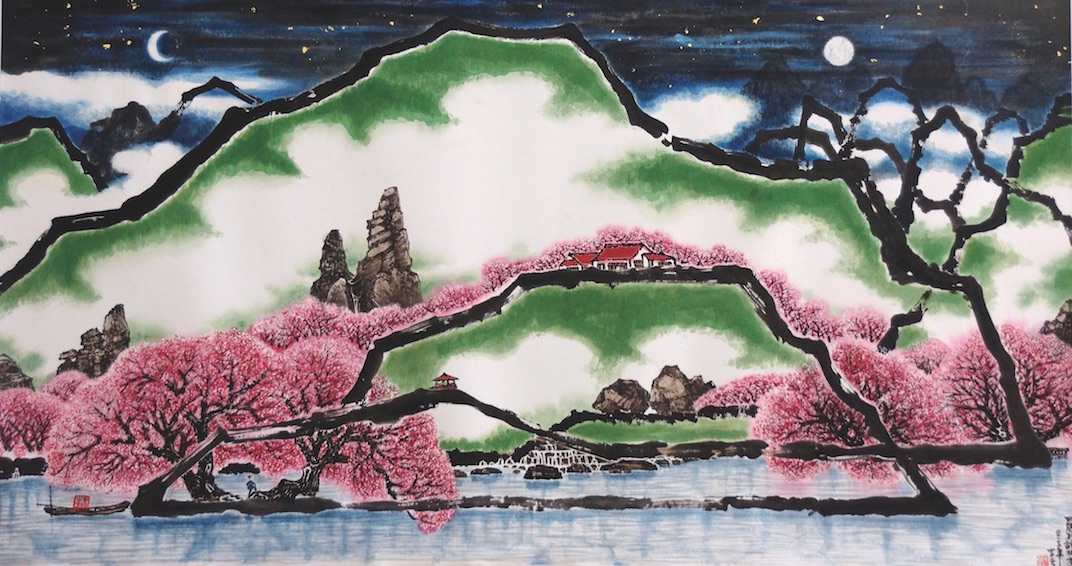 The exhibition, The Poet's Brush: Chinese Ink Paintings by Lo Ch'ing, curated by UMD professor Jason Kuo, brings 30 artworks to the Center for Art, Design and Visual Culture, UMBC for the artist's first show in the US in ten years. Representing 4 decades of the artist's work, the selection ranges from his smaller, poetic compositions of the late 1960s all the way to his monumental, post-modern landscapes of 2015.  Working in the millennia-old tradition of Chinese ink art, Lo's paintings include familiar landscape forms of the genre, such as mountains, clouds and river scenes, but he updates this hallowed pictorial language with his own idiosyncratic vocabulary – one that includes an array of modern symbols like airplanes, icons, asphalt and skyscrapers – and aerial views impossible in ancient times.
Lo's artistic effort to find a painting language within the tradition of ink art that can dexterously handle themes of modern living drives the choice of works in this exhibition. For an artist from Taiwan, where the past century has seen war, occupation, revolution and an economy move from an agrarian base to a globalized market in a matter of decades, the importance Lo places on not dislodging the historical is particularly poignant. His masterful brushwork and gestural nods to past Chinese masters are ever-present.  Yet his breathtakingly original compositions in bold black ink and bright watercolors also pay homage to Magritte and pop art, to postmodern theory and to the Windows operating system.  Lo presents the world we live in as one that is meant to be assembled, not deciphered. His love of semiotics gives a further nod to a textual reading of visual imagery.  Just as we all use tabs on our computer screens to shrink or expand "views" as needed, so too do his monumental canvases give us the opportunity to hold multiple realities within one contingent moment.
All of these canvases present worlds within worlds, interiors both crowded and expansive, edges that intrude and help clarify.  There is a large dose of introspectiveness throughout that celebrates the improvisational. Yet for all his delight in capturing the complexity of our modern world, Lo Ch'ing also offers simple canvasses of stars reflected in a pond, or trees growing on a hill.  The originality of his vision makes for a captivating artistic experience.
Critically acclaimed both in Taiwan and China for his painting and his poetry, Lo Ch'ing's works have been shown around the world including at the Saatchi Art Gallery and the British Museum in London.
A special catalog of the exhibition can be downloaded for free at this link:
Lo Ch'ing A Contemporary Chinese Poet-Painter
Lecture: The Wildly Colorful Ink Paintings of Lo Ch'ing
Wednesday, March 7, 2018, 4 pm
Alfreda Murck, author of Poetry and Painting in Song China, The Subtle Art of Dissent and previous Associate Curator of Asian Art at The Metropolitan Museum of Art will present a lecture on the work of Lo Ch'ing, the Poet-Painter. The lecture places the artist in the context of the millennia-long tradition of Chinese Landscape Painting and coincides with the CADVC exhibition, The Poet's Brush: Chinese Ink Paintings by Lo Ch'ing.
Artist Bio
Lo Ch'ing was born in 1948 in Shandong Province, China.  His family moved to Taiwan in 1949. He showed promise as a painter from a young age and began formally studying Chinese ink painting as a young teenager. He graduated from the English Department of Fu Jen Catholic University in Taipei in 1972 and earned an MA in comparative literature at the University of Washington, Seattle in 1974. Lo has had a prestigious literary and artistic career in Taiwan, beginning with his first collection of poems, Ways to Eat a Watermelon, which won a national poetry award in 1974.  He has taught English and American literature at Furen University and Taiwan Normal University and has been editor of several literary art journals.  He began to exhibit his art in 1980, and since then has had dozens of solo and group shows in Taiwan, China, Hong Kong, the US and Europe.  He is a celebrated painter, poet and calligrapher and recognized as one of a handful of Chinese painters who have reinvigorated Chinese ink painting for contemporary audiences.  He lives in Taiwan with his wife, an artist in her own right, and has two grown sons.
Curator Bio
Jason C. Kuo is Professor of Art History and Archaeology at the University of Maryland and has taught at the National Taiwan University, Williams College, and Yale University. His numerous publications include: The Austere Landscape: The Paintings of Hung-jen, Transforming Traditions in Modern Chinese Painting: Huang Pin-hung's Late Work, and The Inner Landscape: The Paintings of Gao Xingjian. He edited the volumes Visual Culture in Shanghai, 1850s-1930s; Perspectives on Connoisseurship of Chinese Painting; and Stones from Other Mountains: Chinese Painting Studies in Postwar America.
Lecturer's Bio
Alfreda Murck is a historian of Chinese visual culture. She relocated last year to New York after living seventeen years in Beijing. In China, she was a consultant to the Palace Museum in the Forbidden City and a researcher at their Painting and Calligraphy Research Center. She taught graduate students at the Central Academy of Fine Arts and Peking University. Major exhibitions to which she contributed include The Three Emperors, 1662-1795 at the Royal Academy, London, Eccentric Visions: The Worlds of Luo Ping (1733-1799) at the Museum Reitberg, Zurich, and the Metropolitan Museum; and Mao's Golden Mangoes and the Cultural Revolution, also at The Museum Rietberg. This fall "Mao's Golden Mangoes" is being shown at The China Institute, New York. She authored Poetry and Painting in Song China: The Subtle Art of Dissent (Harvard, 2000). She has published numerous articles in English and Chinese on China's visual arts and poetry. In Beijing Alfreda formed a collection of 20th century vernacular Chinese teapots now in the British Museum and a collection of printed cotton quilt covers dating from 1959 to the early 1980s now in the Peabody Essex Museum, Salem. Prior to living in Asia, Alfreda was Associate Curator of Asian Art at The Metropolitan Museum. She received her PhD from Princeton University.
Funding
Support for the exhibition and programming is provided by Taiwan Academy, Taipei Economic and Cultural Representative Office in the United States (TECRO), the Maryland State Arts Council and the Baltimore County Commission on Arts and Sciences.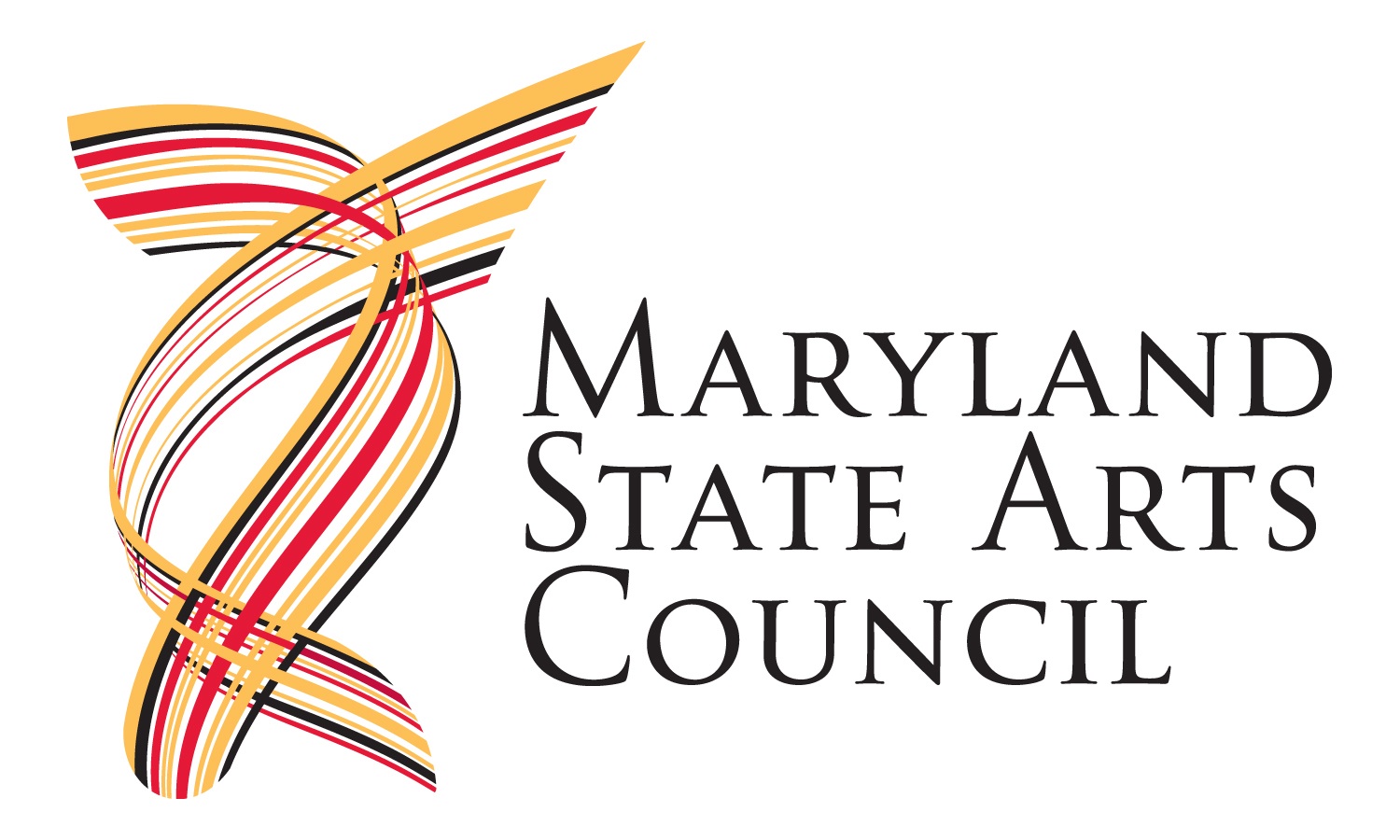 Opening Reception
Thursday, February 1, 2018, 5 – 7 pm
Gallery Hours – Beginning Day after Reception
Tuesday through Saturday, 10 am – 5 pm
Click here for directions and parking information.