Intermedia + Digital Art Thesis Exhibition
Codex: 2020 Intermedia and Digital Arts Master of Fine Arts Thesis Exhibition
Tuesday, April 7 – Friday, April 24


Center for Art, Design and Visual Culture
Artists' reception
Thursday, April 9,  5-7pm 
RTKL Lecture: Jason Charney
Friday, April 24, 1pm

UMBC's Center for Art, Design and Visual Culture (CADVC) and the Department of Visual Artspresent Codex, the 2020 Intermedia and Digital Arts (IMDA) Master of Fine Arts Thesis Exhibition, featuring work by Brandon Ables, Jason Charney, Mandy Morrison, and Adan Rodriguez.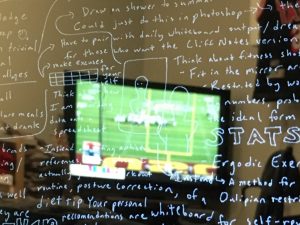 In One Man Trance, Brandon Ables recreates his studio apartment, demonstrating how he programs his subconscious by scoring everyday gestures with audio and visual accompaniment. Different areas of the installation can be activated when viewers chew food, use mouthwash, practice an instrument, exercise, and lie in bed watching TV.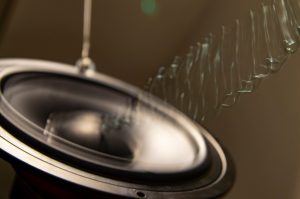 Jason Charney's installation, reciprocation, reimagines loudspeakers – transforming them from "invisible" aural channels into sculptural objects to interrogate interpersonal relationships, (mis)communications, and the kinetic phenomenon of sound. While recorded audio is used to drive the loudspeakers and implicate the viewer-listener's body, the heard sound is an artifact of the materials activated by the speakers' movement. Jason Charney will lead the RTKL Lecture and MFA Award 2020 Announcement with Juror George Ciscle.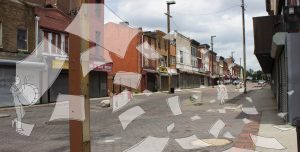 Mandy Morrison's multi-channel video installation Spirits of Promise and Loss employs photographic images of the Old Town Mall in Baltimore as backdrop for ghost-like characters wandering the former landscape of utopian possibility. Now mostly shuttered, the redevelopment of Old Town mall was one of numerous experiments across the U.S. aiming to lure suburban shoppers back downtown.
Adan Rodriguez's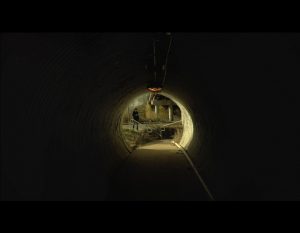 A Necessary Haunting blurs the line between reality and fiction, highlighting film's effect on community tourism and the perpetuation of legend. Presented through a narrative short film, documentary, and accompanying physical media, the artist encourages travel to locations where alleged supernatural events took place.
---
Admission is free.
---
Plan your visit
The Center for Art, Design and Visual Culture is open Tuesday through Saturday from 10 a.m. to 5 p.m. and is located in the Fine Arts Building. For more information call 410-455-3188.
Click here for directions and parking information.