September 4 – October 14, 2017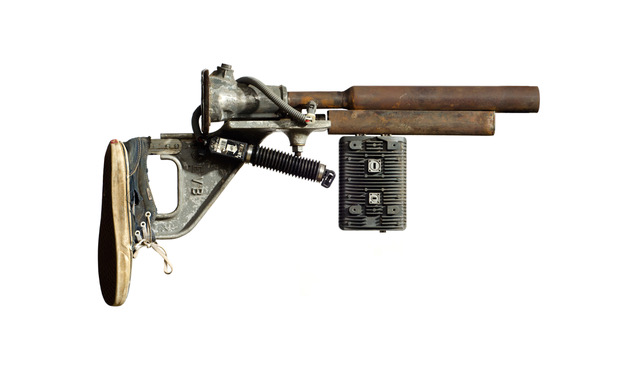 David Hess started assembling life-size sculptures of assault rifles from what he calls "rescued" objects – ranging from an old black sneaker and vintage turquoise sewing machine, to a raggedy crutch and pink Barbie bike frame – decades ago, increasing his pace of production following the Sandy Hook Elementary School shootings in 2012. While he has been showing some of the works since 2015, Gun Show at UMBC is the first display of over 100 sculptures. Of these, the artist made 12 available as a "study set" during a special hands-on, discussion-based program.
Hess aims for this project to foster dialogue about one of the most volatile issues of our time – guns, who should or should not own them, whether or not to legislate them, ramifications of their use or misuse, and how issues of race, class, gender identity, and age impact every aspect of these questions.
PROGRAMMING
On Friday, September 29, 2017, at 12:30 on Midday with Tom Hall, WYPR broadcast an interview with the artist, David Hess, and the curator of the exhibition, Dr. Kathy O'Dell.
Dr. Kathy O'Dell, curator of Gun Show, offered "free hour" gallery talks on the dates listed below. No RSVP was required. Visitors could just show up as close to noon as possible. Those wishing to arrange a time outside those listed for Dr. O'Dell to speak with a class or a group could email her at odell@umbc.edu.
Friday, September 15

, 

12 – 1 PM
Wednesday, September 20

, 

12 – 1 PM
Friday, October 6

, 

12 – 1 PM
Wednesday, October 11

, 

12 – 1 PM
October 5, 2017, 4:00 PM

, CADVC and Fine Arts Am

phitheatre

Dr. Kathy O'Dell opens her essay in the brochure that accompanies Gun Show with this question: "How does it feel to hold a gun?" At an event on October 5, starting at 4:00 PM at the CADVC and then moving to the Fine Arts Amphitheatre, attendees had an opportunity to explore that question as they viewed and handled (if they so wished) a selection of David Hess's sculptures/facsimile guns on display in his exhibition. As attendees participated in the viewing and handling, special guests listed below were present to facilitate small group discussions on many of the wide-ranging issues that arise around guns: who does or does not own them, who should or should not own them, whether or not to legislate them, safe ways to use them, ramifications of their use or misuse, and how issues of race, class, gender, and age are embedded in these questions.

A reception at the CADVC followed the event.

SPECIAL GUESTS:

Amy Berbert, UMBC Visual Arts alumna, creator of photo project "Remembering the Stains on the Sidewalk"

Chinen Aimi Bouillon, Curator-in-Residence for The Feminist Art Project – Baltimore (TFAPB) & UMBC graduate student in Intermedia and Digital Arts (IMDA)

 

Richard Chisolm, UMBC Visual Arts alumnus, creator of "Guns and Choices," 15-min excerpt from in-progress feature film (excerpt on view at Gun Show)

 

Dr. Firmin DeBrabander, MICA faculty in Humanistic Studies & author of Do Guns Make Us Free? Democracy and the Armed Society 

 

Paul Dillon, UMBC Deputy Chief of Police

 

Liz Faust, MICA alumna, MFA Curatorial Practice thesis on David Hess's Gun Show

 

"Mama Rashida" Forman-Bey, program director, WombWork Productions, Baltimore

 

David Hess, artist, Gun Show

 

Hank Mink, UMBC Mechanical Engineering, Advisor to UMBC Rifle & Pistol Club 

Dominic Nell, artist (Nell Aware House), community activist (For My Kidz, Kids Safe   Zone), entrepreneur (City Weeds, MyNiche)

Dr. Sheri Parks, UMCP faculty in American Studies & frequent commentator on WYPR
For more information read: GUN_SHOW_brochure