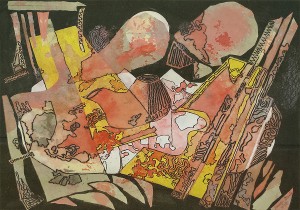 George Steele: Layers
October 13 – November 6
Reception: Friday, October 14, 6:00 – 8:00 p.m.
Baltimore County Arts Guild George Steele (1903-1978) was a Yale educated architect and fine artist. A true renaissance man, he spent his life traveling, collecting inspiration from England and France to incorporate into his work. His grandson-in-law, Alan Sherman, professor of computer science at UMBC, brought Steele's work to the attention of the CADVC.
Layers presents a collection of abstract paintings that exemplify Steele's recurring techniques to build up a surface, no matter the medium. He integrated collage, photos, text and graphics within his abstract compositions. The exhibition also features artwork from Arbutus Middle School made in response to Steele's art. The exhibition is organized by the Center for Art, Design and Visual Culture and curated by CADVC intern, Victoria Schanken '18, visual arts. The show and opening reception are free and open to the public.
Gallery Hours:
Thursday-Sunday 1:00-5:00 p.m.
Baltimore County Arts Guild (2nd floor of Northwest Savings Bank)
1101 Maiden Choice Lane, Baltimore, MD 21229