As advocates for the Joseph Beuys Sculpture Park, part of our mission is to promote inspirational outdoor community environments,  where passersby pause to sit with nature or gather to be with friends. While we love when the park is buzzing with community workshops or performances, we also know that there is much beauty to be found in the quiet, serene moments in this unique UMBC space.
Stephen Bradley, Associate Professor of Visual Arts, Director of the Linehan Artist Scholar Program, and UMBC community member recently captured one of these moments on August 30 at the beginning of this semester when he was researching sonic environments right on campus at the Beuys Park.
Check out his 11-minute recording of this lively cicada chorus in the park here!
About the artist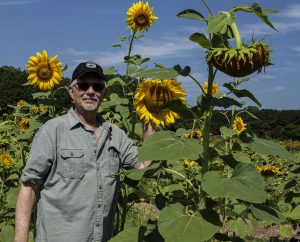 Stephen Bradley is an interdisciplinary artist, engaged in acoustic ecology and material culture.   He maps and traces our relationship to place through ecology, sound and sculptural objects, including recorded narratives juxtaposed with artifacts discarded or lost in the landscape.
Bradley's sound performances, media installations, and site-specific artworks have been exhibited and presented nationally and internationally such as, WGXC 97.5 FM, and installing a radio sculpture at Wave Farm, NY, participating in the National Trash Summit – Nationals Stadium – Washington D.C., Sandao Gallery, Xiamen University and VArts Center – Shanghai, China, radioCona FM – Ljublijana, Slovenia.
Bradley has received solo commissions and fellowships from Wave Farm, National Endowment for the Arts, Maryland State Arts Council, Sonic Circuits VII: Walker Art Center, Inter-Society for the Electronic Arts (ISEA), Museum of Contemporary Art Kiasma – Helsinki, Bienal de Arte Contemporaneo de Sevilla, Biacs3 – Spain, Wave Hill – Bronx, NY, and Hull Time-Based Arts – UK.
To learn more about Stephen Bradley's work, visit his website and check out his sonic research and his land mapping research.
Behind the scenes!
Check out this photos from Stephen Bradley's audio recording set up: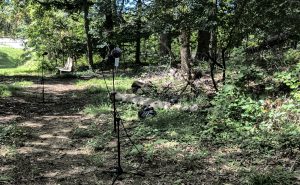 "Whether urban or rural, the sounds of our home environments give us – often unconsciously – a strong 'sense of place.'"
-Hildegard Westerkamp, The Local and Global "Language" of Environmental Sound