Check it out in their April Care Package
CULTIVATE THIS.
Nature has much to teach us. Today, we're enjoying its lesson to notice what is around us. To reconnect with the big picture. This 12-minute meditation, created by the Center of Arts, Design and Visual Culture at UMBC, guides us through this lesson with breathing, awareness practices and nature imagery inspired by their Sacred Place, The Joseph Beuys Sculpture Park. This is the first of three "Nature as Teacher" meditations — the latest addition to our Nature Sacred Guides.
You can check out the program here: https://naturesacred.org/programming_kit/nature-as-teacher-cultivating-peace-in-uncertain-times/ 
Each video meditation is kindly filmed by Research Associate Professor, Director of UMBC'sImaging Research Center and award-winning filmmaker Lee Boot and narrated by UMBC's Director of Workplace Learning, OD & Wellness and Founder & CEO of Wardell Development Group LLC.,Jill Wardell. The project is supported by the Center for Art, Design and Visual Culture and the Joseph Beuys Tree Partnership with a generous gift fromNature Sacred (naturesacred.org).
Posted: April 16, 2021, 2:13 PM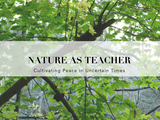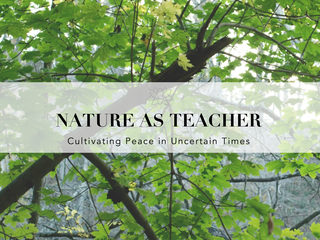 Stephen Bradley's sonic research at the Beuys Park
As advocates for the Joseph Beuys Sculpture Park, part of our mission is to promote inspirational outdoor community environments,  where passersby pause to sit with nature or gather to be with friends. While we love it when the park is buzzing with community workshops or performances, we also know that there is much beauty to be found in the quiet, serene moments in this unique UMBC space.  
Stephen Bradley, Associate Professor of Visual Arts, Director of the Linehan Artist Scholar Program, and UMBC community member recently captured one of these moments on August 30 at the beginning of this semester when he was researching sonic environments right on campus at the Beuys Park. 
Listen to his 11-minute recording of this lively cicada chorus in the park here! 
About the artist
Stephen Bradley is an interdisciplinary artist, engaged in acoustic ecology and material culture.   He maps and traces our relationship to place through ecology, sound and sculptural objects, including recorded narratives juxtaposed with artifacts discarded or lost in the landscape.
 To learn more about Stephen Bradley's work, visit his website and check out his sonic research and his land mapping research.
 Whether urban or rural, the sounds of our home environments give us - often unconsciously - a strong "sense of place".  
-Hildegard Westerkamp, The Local and Global "Language" of Environmental Sound
Posted: December 9, 2020, 12:06 PM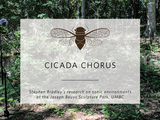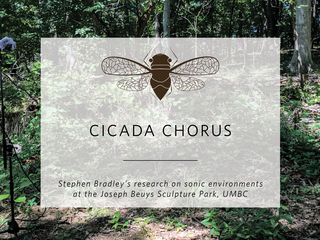 NatureSacred just launched their first online giving campaign, "We Belong." It runs until December 31 and highlights their Firesoul Network, Sacred Places, and their impacts on communities. The funding will support NatureSacred's capacity for more gatherings and trainings, along with Network enhancement and enrichment grant funding.  
If you'd like to help support, we invite you to share your photo or story of your experience in our Sacred Place at UMBC, the Joseph Beuys Sculpture Park and tag @NatureSacred or you can donate to the "We Belong" campaign at naturesacred.org/belong. 
Posted: December 2, 2020, 1:58 PM