Please join us at the Center for Art, Design and Visual Culture for the class of 2023 MFA Thesis Exhibition, Mind Over Matter, featuring the work of Liza Aleinikova, Fahmida Hossain and Anna Kroll.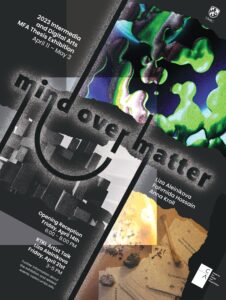 Opening reception: Friday, April 14th 6:00 – 8:00 PM
RTKL Artist Talk: Liza Aleinikova
Friday, April 21st
3:00 – 5:00 PM
Learn more about the artists here:
Liza Aleinikova: IG: @lizapupsikarts
Related events:
Opening Reception: Friday, April 14th 6:00 – 8:00 PM
Join us for the opening reception of our Spring 2023 Thesis Show: Mind Over Matter. This event will take place on Friday, April 14th from 6:00 – 8:00 PM. Come and experience the culmination of the Intermedia and Digital Arts Program (IMDA) graduating students' hard work and dedication, featuring a range of innovative and thought-provoking projects across various media.
RTKL Artist Talk: Liza Aleinikova: Friday, April 21st, 3:00 – 5:00 PM
We are excited to announce an RTKL Artist Talk featuring Liza Aleinikova, taking place on Friday, April 21st from 3:00 – 5:00 PM. This talk is an opportunity to learn about Aleinikova's creative process and gain insights into her latest projects.
UMBC is committed to creating an accessible and inclusive environment for all students, staff, and visitors. If you have difficulties accessing any of the materials on UMBC-published sites or wish to request accommodations for this event, please email Kelley Bell at kbell2@umbc.edu
Learn more about IMDA here:
---
Visitor Information
Admission is free. The CADVC is open Tuesday through Saturday, 10 a.m. – 5 p.m.
Please visit here for directions and parking information.
COVID-19 Guidelines
UMBC is closely monitoring the COVID-19 situation and is dedicated to ensuring the health and safety of the university community. For complete information, please visit our COVID-19 website.