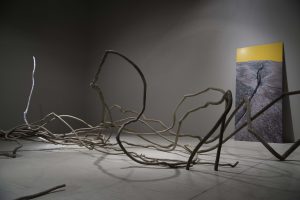 LAB: Empirical Evidence: John Ruppert 
January 31 – March 16, 2019
The Center for Art, Design and Visual Culture will present an exhibition of John Ruppert's work which will open at the CADVC on Thursday, January 31st, 2019. Entitled LAB: Empirical Evidence: John Ruppert, the exhibition will span the artist's recent explorations with installation, sculptural objects, photography, and sound as it relates to the world around us. Influenced by his intense interest in natural phenomena, Ruppert's overarching investigation will focus on the intersection of the natural world and humanity. In a broader sense, he seeks to develop a heightened consciousness of our precarious existence on the planet.
LAB: Empirical Evidence: John Ruppert represents the first exhibition in a new series where an individual artist is invited to orchestrate his or her pieces and/or series within the CADVC's main gallery space to produce a unique and comprehensive installation blurring the lines between art and science. Future exhibitions will explore the connections between textiles, drawing, painting, and sculpture, and the natural sciences, engineering, technology, and cultural politics.
GALLERY TOUR & CONVERSATION WITH THE ARTIST
4pm, Tuesday, February 12th
Gallery tour and conversation with John Ruppert
and Dr. Stephen Freeland, Evolutionary Biologist
and Director of the Individualized Study Program at UMBC
---
Plan Your Visit
Admission to CADVC exhibitions and all related programming is free and open to the public.
The Center for Art, Design and Visual Culture is open Tuesday through Saturday from 10 a.m. to 5 p.m. and is located in the Fine Arts Building on the Campus of UMBC. For more information call 410-455-3188.
Click here for directions and parking information.
Please note: UMBC is committed to creating an accessible and inclusive environment for all faculty, staff, students, and visitors.  If you would like to request accommodations (e.g., ASL interpreters, captioning, wheelchair access, etc.) for this event due to a disability, please notify us at least two weeks prior to the event. Requests received after that time cannot be guaranteed, but we will do our best to make arrangements for program access. Please contact CADVC at cadvc@umbc.edu or 410-455-3188 with your specific request and be sure to mention the event title, date, and time.