Joseph Beuys Sculpture Park

Joseph Beuys Sculpture Park is on the south side of campus between the RAC and Hilltop Circle.
About the Park
The Center for Art, Design and Visual Culture produces diverse programming for the Joseph Beuys Sculpture Park. Programs offered in the park include an ongoing series of workshops for metro area K-12 students, UMBC student activities and classes, UMBC Wellness initiatives, community restorative yoga, and site-specific visual art installations and live music and dance performances.
Through the generous support of NatureSacred.org, the initial funder of the park, and UMBC, CADVC has been able to present these programs free and open to the public for the last 20 years!
Visit cadvc.umbc.edu/nature to learn about our latest programs.
"The true capital of the world is the human ability for creativity, freedom and self-determination in all their
working places."
 – Joseph Beuys
Joseph Beuys Tree Partnership Project
Joseph Beuys (1921-1986) was an influential German artist who came to prominence in the 1960s. He is known for his performances, sculptures, environments, vitrines, prints, posters, and thousands of drawings. He was a charismatic and controversial artist, a committed teacher, and a political activist.
Beuys highlighted the need for greater environmental awareness across the globe through his ongoing social sculpture project entitled, 7000 Oaks. With the help of NatureSacred.org and over 20 organizations in Baltimore, 7000 Oaks inspired the planting of hundreds of trees and several stones by over 500 people in Baltimore Parks and at the UMBC sculpture site in 2000-2001. More information and images are at this link.
Joseph Beuys Tree Partnership Journal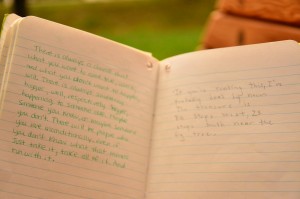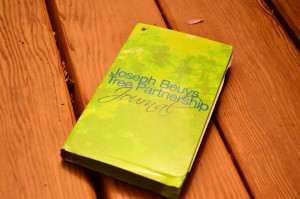 At the Joseph Beuys Sculpture Park at UMBC, there is a bench, which contains a blank journal. This journal provides visitors to the park with a forum in which to write or to sketch. Over the years these public journals were collected, scanned, and archived at CADVC. Some of those entries are here for viewing. Please be advised the journal has not been edited in any way and may contain content of a serious or adult nature. Parental guidance is advised.
UMBC 2001-2010 Journal Entries in Downloadable Spreadsheet
Land Acknowledgement
With social and environmental awareness at the core of our mission at the Joseph Beuys Sculpture Park, we find it critical to acknowledge the ancestral lands of the Piscataway Conoy and Susquehannock peoples that lived and continue to reside on the land that is now UMBC. Over the past 500 years, violence, displacement, and settlement have sought to erase and oppress Indigenous Peoples, their cultures, and their histories. We offer our respect to all past, present, and future Indigenous people connected to this land and we strive to cultivate a space at the Joseph Beuys Sculpture Park that prioritizes community, dignity, mindfulness, and personal wellness.   
Cicada Chorus

Stephen Bradley's sonic research at the Beuys Park

December 9, 2020 12:06 PM

As advocates for the Joseph Beuys Sculpture Park, part of our mission is to promote inspirational outdoor community environments,  where passersby pause to sit with nature or gather to be with friends. While we love it when the park is buzzing with community workshops or performances, we also know that there is much beauty to be found in the quiet, serene moments in this unique UMBC space.  

Stephen Bradley, Associate Professor of Visual Arts, Director of the Linehan Artist Scholar Program, and UMBC community member recently captured one of these moments on August 30 at the beginning of this semester when he was researching sonic environments right on campus at the Beuys Park. 

Listen to his 11-minute recording of this lively cicada chorus in the park here! 

About the artist

Stephen Bradley is an interdisciplinary artist, engaged in acoustic ecology and material culture.   He maps and traces our relationship to place through ecology, sound and sculptural objects, including recorded narratives juxtaposed with artifacts discarded or lost in the landscape.

 To learn more about Stephen Bradley's work, visit his website and check out his sonic research and his land mapping research.

 

 Whether urban or rural, the sounds of our home environments give us - often unconsciously - a strong "sense of place".  

-Hildegard Westerkamp, The Local and Global "Language" of Environmental Sound




Launch of NatureSacred's online giving campaign, "We Belong"

NatureSacred just launched their first online giving campaign, "We Belong." It runs until December 31 and highlights their Firesoul Network, Sacred Places, and their impacts on communities. The funding will support NatureSacred's capacity for more gatherings and trainings, along with Network enhancement and enrichment grant funding.  




If you'd like to help support, we invite you to share your photo or story of your experience in our Sacred Place at UMBC, the Joseph Beuys Sculpture Park and tag @NatureSacred or you can donate to the "We Belong" campaign at naturesacred.org/belong. 










Arbor Day Foundation Webinar

Join us next Wednesday, October 28th at 1pm EST to learn more about the Arbor Day Foundation's Tree Campus Healthcare recognition program which celebrates leadership in wellness and community engagement through trees among health institutions. At the Joseph Beuys Sculpture Park, it's part of our mission to nurture the trees in our park and in our surrounding community. In this webinar, the Arbor Day Foundation will offer a framework for campuses and communities to get involved and become leaders within their urban forestry "ecosystem."




RSVP to erobertson@naturesacred.org for more information!







To learn more about the Arbor Day Foundation click here