Due to the heat advisory, we are moving the yoga class for (Thursday, Sept. 6th) to the University Center (UC 312).
Joseph Beuys Sculpture Park is on the south side of campus between the RAC and Hilltop Circle.
Restorative Flow Yoga in the Park!
Please join us for yoga in the Joseph Beuys Sculpture Park from Sept. 4th thru Oct.4th on Tuesdays & Thursdays at 12noon.
Certified Instructor Mel Freeman practices a Vinyasa Flow as well as a much slower Restorative Flow, which he will be starting in the park on Sept. 4th. This level of activity is especially appropriate for beginners as well as seasoned yoga practitioners. Please bring your own yoga mat or towel (and red card if you are a UMBC student, faculty or staff to scan for attendance purposes). This event is also free and open to the public; all are welcome! . Sign up buttons on MyUMBC and rain locations are linked for each date below. Contact: hrtraining@umbc.edu or 410-455-1440.
Supported by Center for Art, Design & Visual Culture and UMBC's Workplace Learning & Wellness Program through a gift from the TKF Foundation.
Dates of Yoga in the Park: (Sign up for each date at each link on MyUMBC.)
9/4   (rain: UC 310)   & 9/6   (rain: UC 312)
9/11 (rain: UC 310)  & 9/13  (rain: Main Street)
9/18 (rain: UC 312)   & 9/20 (rain: AOK Library Gallery)
9/25  (rain: UC 310)  & 9/27 (rain: Main Street)
10/2 (rain: UC 310)   & 10/4  (rain: UC 310)
---

"The true capital of the world is the human ability for creativity, freedom and self-determination in all their working places."
 – Joseph Beuys
Joseph Beuys Tree Partnership Project
2000 – 2001
Joseph Beuys (1921-1986) was an influential German artist who came to prominence in the 1960s. He is known for his performances, sculptures, environments, vitrines, prints, posters, and thousands of drawings. He was a charismatic and controversial artist, a committed teacher, and a political activist.  Beuys highlighted the need for greater environmental awareness across the globe through his ongoing social sculpture project entitled, 7000 Oaks. With the help of over 20 organizations in Baltimore, 7000 Oaks inspired the planting of over 350 trees and several stones by over 500 people in Baltimore Parks and at the UMBC sculpture site in 2000.
Baltimore is among the major urban centers to embrace Joseph Beuys' ideas. Beginning in the fall of 2000, with the help of community volunteers, 242 indigenous trees were planted locally as social sculpture in Patterson Park, Carroll Park, Wyman Park Dell, and at UMBC. During the first phase, the project initiators provided 100 trees each at Patterson and Carroll Parks, 12 trees and 4 stones at Wyman Park Dell, and 30 oak trees and granite stones at UMBC. A special ceremony at each site celebrated the revitalized landscape.
2001 – 2010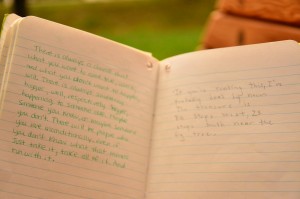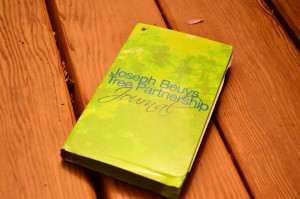 At the Joseph Beuys Sculpture Park at UMBC there is a bench, which contains a blank journal. This journal provides visitors to the park with a forum in which to write or to sketch. Over the years these public journals were collected, scanned and entries were recorded in spreadsheets. Some of those entries are here for viewing in both spreadsheet form and PDF scans. Please be advised the journal has not been edited in any way, and may contain content of a serious or adult nature. Parental guidance is advised.
UMBC 2001-2010 Journal Entries
2010 – 2011
2012 – 2017
CADVC continues to produce programming for the Joseph Beuys Sculpture Park in an ongoing series of workshops for K-12 students. In recent years we have worked with the schools listed below. Click on the links to visit our Facebook page, where we have posted pictures of each school's visit.
2013 – 2014  City College High School, Baltimore City
                      Mt. Hebron High School, Howard County
                      Thunderhill Elementary School, Howard County
                      City Neighbors Hamilton Charter School, Baltimore City
2015              Arbutus Middle School, Baltimore County
                      Lockerman Bundy Elementary School, Baltimore City
2017              Relay Elementary School, Baltimore County
2018
The TKF Foundation donates another new bench to the park! It is installed with the help of the folks from The League for People with Disabilities. Pictured here are Tom Savage (right) and his assistant, Hasan Adul-Adl (left) with UMBC student, Sadaf Rehman (Visual Arts '19). More pictures are at this link.